3D PIGMENTSkin
A highly predictive tool to identify and evaluate skin pigmentation modulators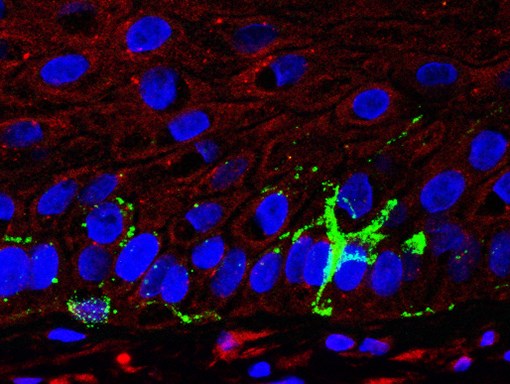 What is it About?

The melanin pigment system in human skin is extraordinarily well developed and assures the photoprotection of the skin against harmful solar radiation.

Specific cell-cell interactions between melanocytes, keratinocytes and fibroblasts play a fundamental role in the regulation of melanogenesis and melanin pigmentation.

To identify and evaluate skin pigmentation modulators, LabSkin Creations team developed a unique and predictive pigmented reconstructed skin reproducing the three-dimensional architecture of the melanocyte environment and the interactions of melanocytes with its cellular partners, keratinocytes and fibroblasts.


3D PIGMENTSkin, a functional full-thickness pigmented skin model
By using our proprietary LabSkin matriX® technology of tissue reconstruction, we developed 3D PIGMENTSkin, a human full-thickness skin model including the pigmentary system.
Not Pigmented
3D model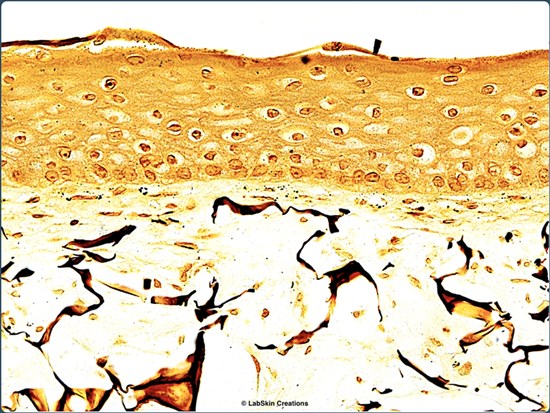 Pigmented
3D model
3D PIGMENTSkin exhibits a correct integration of melanocytes within the epidermal basal layer showing a constitutive production and transfer of melanin pigments into keratinocytes.



UV-unexposed
UV-exposed
The application of ultraviolet (UV) light doses on our 3D PIGMENTSkin leads to a marked and clear increase of the constitutive pigmentation showing its functional state, whereas the number of melanocytes is not changed.



UV-Exposed
Untreated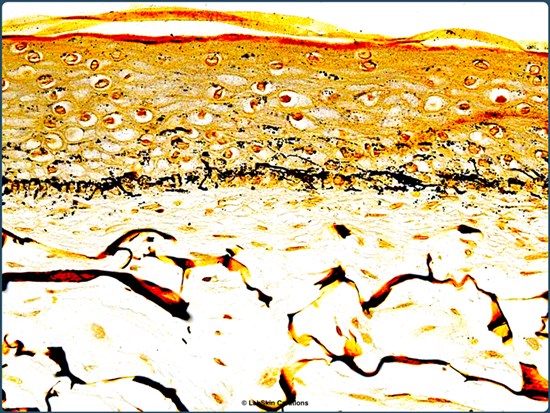 UV-Exposed
+ Whitening
Treatment of 3D PIGMENTSkin stimulated by UV with whitening products of reference results in a strong reduction of the pigmentation and inhibition of melanin transfer.



A responsive model to stress
UV-unexposed
Untreated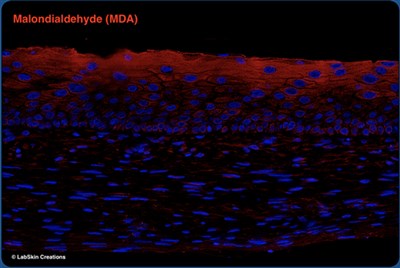 UV-exposed
Untreated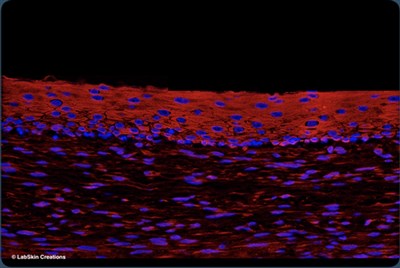 UV-exposed
Active-treated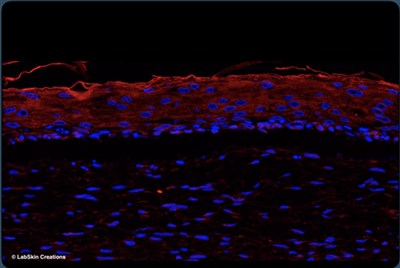 UV irradiations of 3D PIGMENTSkin model results in oxidative stress with an increase in malondialdehyde (MDA) expression reflecting lipids oxidation, which can be reversed by treatment with antioxidant active.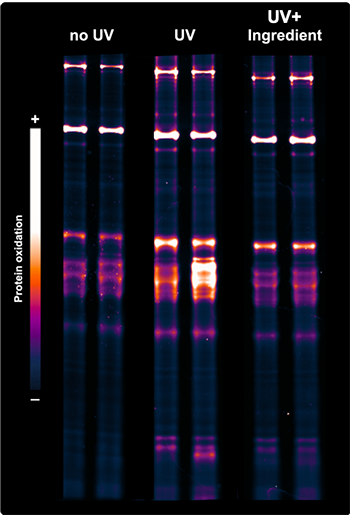 Protein carbonylation, one of the most harmful oxidative protein modifications, is considered as a major hallmark of oxidative stress-related disorders. After UV irradiations, 3D PIGMENTSkin exhibits a significant increase in oxidized proteins. This protein oxidation can be prevented by treating our 3D skin pigmented model with antioxidant active.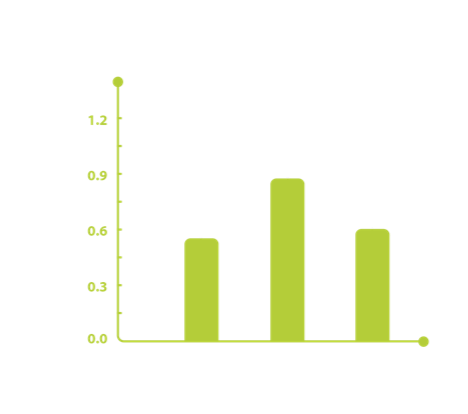 3D PIGMENTSkin is an advanced and highly predictive model to validate the whitening potential of cosmetics active candidates with a presumed function in melanin synthesis or transfer. LabSkin pigmented full-thickness model including a functional dermis represents also a highly relevant tool to study the fundamental role of cell-cell as well as mesenchymalepithelial interactions in the control of skin pigmentation.